Getting Familiar With The Different Types Of Riccar Upright Vacuum Cleaners
Getting Familiar With The Different Types Of Riccar Upright Vacuum Cleaners
For people who seek an efficient yet highly convenient vacuum cleaner, the upright models are generally the best choice. In this respect Riccar tops the list as the provider of a wide range of high end upright cleaners that make even the toughest cleaning task seem extremely simple and effortless. This American brand has created a name for its commitment to offer the best quality vacuums that continue to provide exceptional performance over an extended lifetime. It is also perhaps the only brand that offers such a diverse choice of upright appliances. In fact, users seeking a Riccar upright vacuum can choose from four main categories of these world class devices.
Discussed below are the salient features of each of the four main types of upright vacuums from this leading brand.
Tandem Air: This category comprises of top of the line cleaners from Riccar, featuring the innovative tandem technology which combines the suction power of two different motors to ensure exceptional cleaning power. The Direct Air motor generates sufficient airflow and velocity for deep cleaning of surfaces. The Clean Air motor provides enough suction power for on-board tools besides ensuring high efficiency of filtration and works in tandem with the Direct Air motor.
In addition to offering the combined power of two motors, the Tandem Air cleaners are provided with metal parts in high wear and tear areas. In addition the light-weight spring assisted handle made from aluminum ensure greater ease of use and enhanced durability.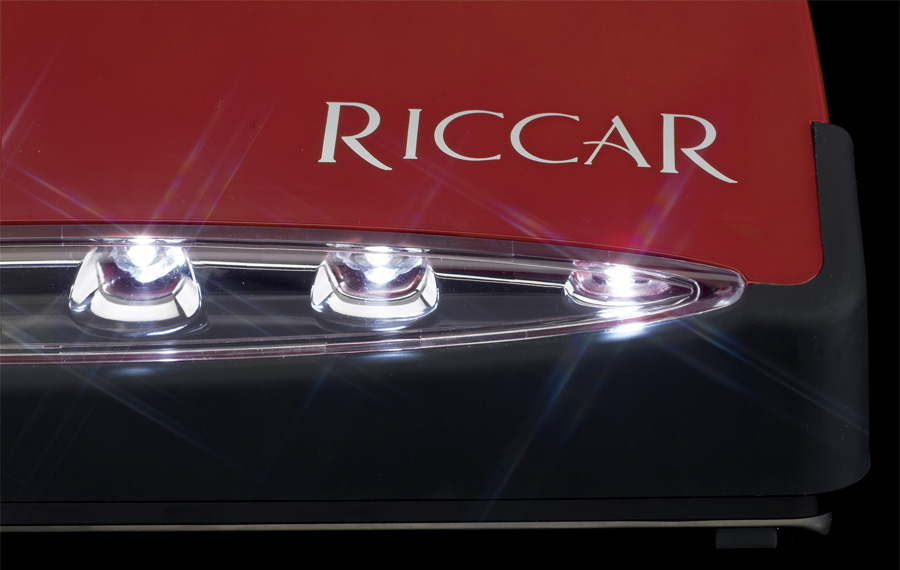 Clean Air: This series of upright vacuums is renowned for offering great cleaning versatility along with low maintenance and exceptional durability. The Clean Air vacuums from the brand come fitted with HEPA media filtration systems and powerful on-board attachments which make them the perfect device to remove the smallest particles of dust and dirt from any cleaning area.
These appliances are also provided with long-stretch hoses, telescopic wands, headlamp and surface selector switch to further improve the ease and convenience offered by the device. In order to improve the efficiency of these appliances further, their bodies have been redesigned for improved airflow along with lifetime belt and self sealing HEPA media bags to keep the accumulated dirt trapped inside the device.
Lightweight Uprights: Riccar has always focused on enhancing the convenience for the users offered through their devices. In keeping with the same it has developed this series of lightweight appliances that weigh less than 9 pounds each. However, the reduction in weight has not in any way affected the cleaning power of these world class vacuum cleaners in any manner.
The devices falling under the lightweight series are best suited for homes that receive a considerable amount of dust and debris. The extremely powerful suction offered by the two stage motor system, combined with the exceptional Riccar vacuum filters, ensure that these devices are able to remove even the smallest particles of dirt ingrained deep into the carpets and leave them spotlessly clean.
Commercial Uprights: This is a series of extremely robust vacuums designed to withstand the usual wear and tear resulting from everyday usage. These appliances mostly feature metallic parts and come fitted with extra-long commercial grade cords that are not easily damaged with frequent plugging and unplugging. They also offer an relatively longer shelf life as compared to similar appliances from other brands.
The Riccar Commercial Upright vacuums are provided with a multi stage filtration system, which ensure better hygienic cleaning. In addition, they come with a wide range of on-board tools to enhance the cleaning efficiency and provide better flexibility while removing dirt and dust from hard to reach places. They are designed to last really long even with extensive usage ensuring that the buyers get the best value for money in every respect.